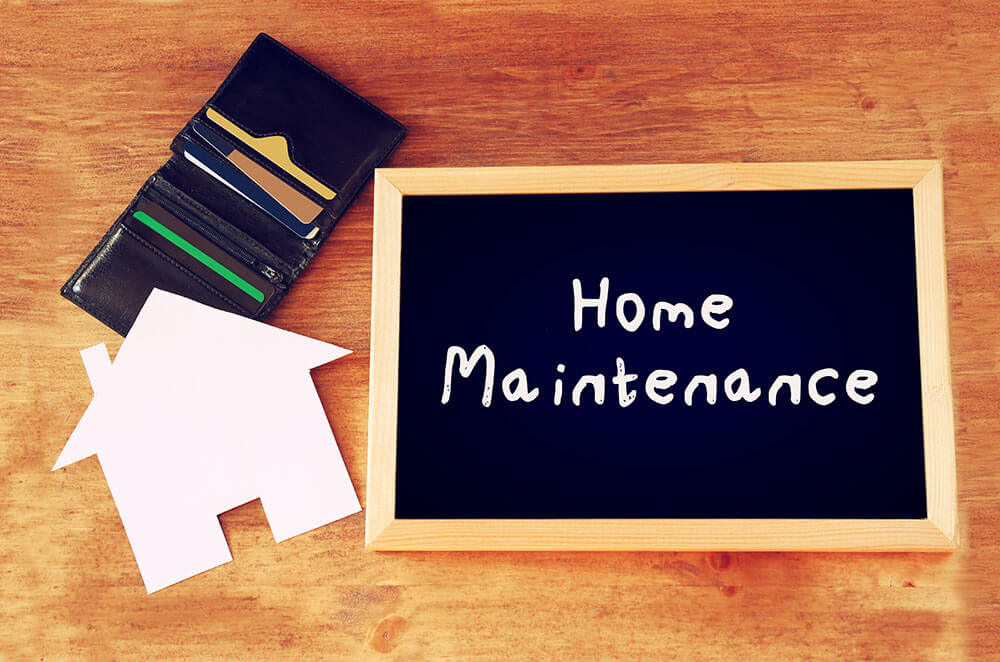 5 Types of Maintenance that Protect Your Home's Value
5 Ways Maintaining Your Home Can Help Keep Its Value
Owning a home, one of your long-term concerns is maintaining property value. The quality of your home, the longevity of your appliances, and the long-term beauty of the property can determine whether your home increases or decreases in value over the next ten, twenty, or thirty years. Most homeowners don't realize this at first, but a robust maintenance schedule is the key to both lower overall maintenance and repair costs and to ensuring your home is still in beautiful top-dollar condition when you decide to sell down the road.
Verify your mortgage eligibility (Dec 11th, 2023)
Let's explore the five essential ways that maintaining your home can help to keep its value.
1) Deep Cleaning Prevents Scratches and Detects Mold
Floors and Baseboards
Inside Cabinets and Closets
Nooks and Crannies
Attics and Basements
Did you know that cleaning is for more than just your comfort? From sweeping the floor to occasionally clearing and wiping down the inside of every cabinet, deep cleaning ensures that your home does not take damage during your stay. A clean floor is free of sharp grit, which can mean saving nice hardwood or carpet from damage that can occur if grit is ground in. Deep cleaning removes grime, bacteria, and allows you to detect signs of mold before it eats away at your home's building materials.
2) Plumbing Maintenance Prevents Water Damage
Replace Corroded Pipes Before They Leak
Drain Care Before Clogs and Backups
Water Softening Before Scale Buildup
Insulation Before Winter Burst Pipes
Maintaining your plumbing can be essential to preventing water damage and saving on long-term plumbing repairs. Replace corroded pipes and insulate your pipes for winter before a pipe breaks and causes extensive water damage to the house. Take care of your drains with regular hot vinegar flushing and take care of your pipes with an in-home water softener to prevent buildup and reduce the risk of pipe decay.
Verify your mortgage eligibility (Dec 11th, 2023)
And if your pipes are old, the occasional replacement can prevent both rust in the water and leaks later on.
3) Appliance Maintenance Increase Performance and Lifespan
HVAC
Water Heater
Stove, Oven, and Dishwasher
Laundry Machines
Replacing What Needs Replacing
Take good care of your appliances, and replace them when the time comes. Have your HVAC cleaned and inspected and your water heater flushed and descaled about once a year. Clean your stove weekly and clean your oven at least twice a year. Run vinegar through your dishwasher and clear the drain area twice a month. Clean your laundry machines and keep an ear out for trouble. If anything is too old, replace it before the failing appliance costs money in damages, power bills, or leaks.
New appliances or well-maintained older appliances are far more valuable on the housing market than rickety failing appliances.
Verify your mortgage eligibility (Dec 11th, 2023)
4) Seasonal Landscaping Maintains Property Value
Weeding and Trimming
Reseeding and Fertilizing
Flower Bed Integrity
Lawn Grade and Your Foundation
Take care of your lawn and curb appeal will be nearly effortless when you decide to sell later on. You don't have to be a master gardener or necessarily hire a landscaping team. Just make sure that your front and back gardens are weeded and trimmed regularly. If there are bare patches, reseed and fertilize. Keep your flower beds trimmed and lined so they don't fade into the lawn, and make sure that your lawn is graded so that water doesn't flow into and damage your home's foundation.
5) Exterior Care and Long-Term Property Value
Exterior Cleaning Prevents Rot and Separation
Fresh Paint Protects Siding
Foundation Inspections and Maintenance
Roof Maintenance vs Roof Replacement
Finally, take good care of the outside of your house. An annual inspection and power washing every couple of years can prevent long-term damage to your siding or detect damage as it begins. If your paint starts to peel, a fresh coat of exterior paint is key to protecting the outside of your home. Have your roof inspected once a year and be sure to fix any missing shingles or soft spots before they become leaks and water damage.
Maintaining Your Home's Value with a Good Maintenance Routine
We know how important your home's property value truly is. The right maintenance routine can ensure that your home maintains that value and likely increases in price over time with little to no effort in the long run. Contact us today for more great home property value tips or to make plans to purchase a home that will be worth the effort of good maintenance.
Show me today's rates (Dec 11th, 2023)